New connections
A planet-wide, industrial-scale 'Internet of Things' is helping businesses make better decisions in real time
Knowledge is power. It's also profit. So getting the right information at the right time can be the difference between an expensive failure and an optimised success. The problem is: how? For countries like Australia, businesses face a seemingly insurmountable tyranny of distance. "Companies wish they could check their assets," says Fleet Space Technologies CEO Flavia Tata Nardini.
"It's not that they don't want to. It's just that they have to put people in cars and trucks every day to go and check things that are often a three-hour drive away. And this is critical infrastructure. So if something breaks, there's a domino effect."
These are not new problems. "They've been problems for hundreds of years," Tata Nardini says. "It's just that technologies take time to evolve, and innovation is needed to bring together a solution."
The problem is efficiency. The challenge is communication. The solution, Tata Nardini says, is the "Internet of Things (IoT)". The enablers: low-orbit nanosatellites.
"Connectivity always helps a big industrial step," she says. "It's already changed the way we work. But now there's a new step – giving connectivity to assets."
Sensors of all types are cheap and readily available. They can monitor pressure, temperature and speed. They can track locations. They can report mileage and wear-and-tear. Getting them to talk over vast distances, however, has been the problem.
But now, Tata Nardini says, easier access to space has caused all the pieces to fall into place.
A planet-wide, industrial-scale "Internet of Things" is within reach. It's already enabling Kennards Hire to monitor the location and use of all its assets. It's enabling SA Water to analyse the temperature and water usage of Adelaide's parks. NASA wants to use it to survey the moon.
"The analytics. The machine learning. The edge computing. It's all about the ability to make good decisions in the field," she says. "And this is new. It's been years and years in the making. And now we've got there."
THE RIGHT IDEA
Fleet's innovation is to match sensor networks with low-cost, simple to operate connectivity. And we're not talking wi-fi or Bluetooth.
"Low power, wide-area networks … these have a range of about 15km and long battery lives," Tata Nardini says. "They are very different from the wi-fi that drains your phone's battery so fast."
For remote locations, it's no longer about installing and maintaining a large satellite dish. It's no longer about bidding for limited satellite bandwidth. What has changed is the scale. And the cost.
"This is what nanosatellites are doing," Tata Nardini says. "They're small. They're capable. They are 100 times cheaper than traditional satellites."
And SA's burgeoning space industry is providing the opportunity to prove this. "South Australia is kicking goals" she says. "We're already working with the biggest water utilities, energy transmission companies, gas companies – all the biggest enterprises here are eager to work with the Space Agency and start-ups like us.
"Like, wow, it's happening so fast. Sometimes we forget what it means for a four-year-old start-up to be providing services like that. It's pretty special."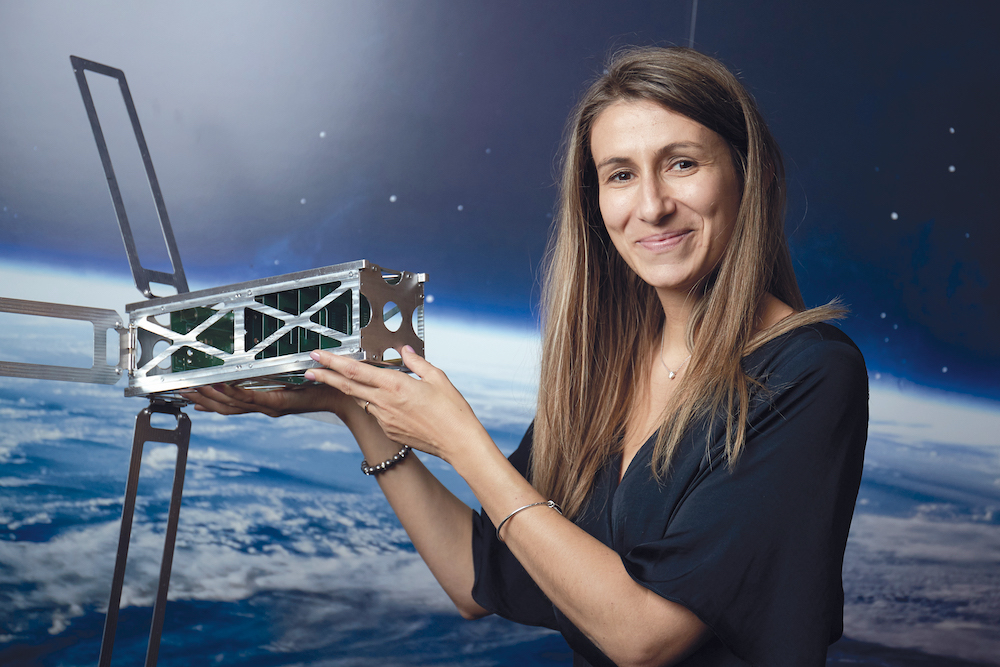 THE RIGHT PLACE
Fleet's technology features in a proof-of-concept project with OZ Minerals and the University of SA. A sensor array will map the flow of heat beneath the state's surface to reveal what minerals are where. The whole process will replace the expensive, time-consuming and invasive practice of driving heavy vehicles off-road into isolated terrain to drill exploratory boreholes.
For Fleet, it will demonstrate the ease and efficiency with which its briefcase-sized "plug and play" router-modem can connect with sensors over a wide area and relay that telemetry via nanosatellite. Is there a leak? Is the pressure right? Has a crucial component failed?
"This is what's so revolutionary," chief operations officer Matthew Pearson says. "If, for example, you've got a passive seismic sensor somewhere in the Outback, you'd be sending someone out there from time to time with a USB stick to download its recordings. What you can do now is monitor in real time. And that means you can establish a huge array constantly updating a wide-scale model back at head office.
"It can offer you a degree of automation where you can sit back with a cup of coffee and watch an image of what's happening at an exploration site evolve in front of you."
THE RIGHT TIME
The world is changing. Fast. Industry needs more copper. It's necessary for solar panels, battery networks and renewable energy networks. Silver is driving new technologies such as wearable devices. Gold is finding new uses in medicine and electronics. Mineral sands are in everything from mobile phones to wind turbines.
"So mining is in a moment where it needs to step up to the game," Tata Nardini says. "Where are these resources that are going to fuel this growth?"
Then there's water. "We're getting to a point where we can't just turn the tap on any more. It's getting scarce. It's getting expensive. So it needs to be used carefully and efficiently. And that needs data."
Then there's electricity. Households are taking energy from the grid. But now they're also putting it back in. And the fluctuations of wind and solar need to be balanced by baseline supplies – be they batteries or traditional power plants.
"The absence of data means an absence of insight, and that's the stuff of logistic management nightmares," Tata Nardini says.
But gathering that data is no longer a problem. Nor is getting that data to where it is needed. "This is happening now. This is world-changing," Tata Nardini says. "We believe one way to solve this drama is to get a lot of data, a lot of smart data, and analyse it. You will be amazed at how you can change a business once you act on this data."
CONNECTIONS
"It's no longer about having one $50,000 sensor measuring a single point," Pearson says. "It's about having one thousand $50 sensors measuring everything."
Without connectivity, those sensors are of limited value. With connectivity, timely data enables fast and informed decision making.
"If you talk to industries in the cities, they typically say, 'We've got a huge data lake, we've got more data than we know what to do with'," Pearson says. "But the resources sector, in particular, is a data game where you can never have too much. With machine learning and data visualisation, the more data means, the more you can do with it. The more a picture can be refined."
The same applies to agriculture. The same applies to infrastructure.
Tata Nardini highlights the thousands of kilometres of gas and water pipelines crisscrossing the state: "It's not just a South Australian problem: it's a world problem," she says. "You have to make sure they are well maintained. With all this critical infrastructure – such as transmission lines – there is never enough data. There is always work that needs to be done to understand the product – be it water, gas or energy."
The same applies to the moon. NASA's Artemis Program aims to put people back on the moon's surface and explore if its water deposits can be used as a "fuel stop" for journeys to Mars. That's where Australia – and Fleet – come in.
"We're not going to send a few guys up to go start drilling at random," Pearson says. "That's just not how we're going to do it. So these techniques Australia has been perfecting for remote resource operations are now suddenly very, very relevant."